Okay, I know I said I wouldn't repeat myself, but I just looked at my stats, and it says that noone's found their way to this post (remember that blogger backdated the post to when I started, rather than when I finished it?). I really enjoyed this book, so I'm hoping someone will read the review so they're inspired to read and enjoy it too!

It's official, I love Connie Willis. Yes, I know, I'm only three books into her repertoire, but until I find evidence against it, I stick by my statement. This is the second novel in the Time Traveling Oxfordians universe (I don't think the series has a title...), and is almost the polar opposite of Doomsday Book in tone, setting, and characterisation.
Ned is busy in the past trying to find out what happened to the monstrosity that is the Bishop's Bird Stump, last seen in Coventry Cathedral before its bombing in 1940. This almost impossible task has been set him by Lady Shrapnell, who has basically taken over the history department (with her 'generous donations') to aid her in recreating the Cathedral exactly as it was moments before the bombing.
Because of the number of drops (ie time traveling trips) Ned has done in a short amount of time, he becomes ill with time-lag, causing "Maudlin sentimentality, difficulty in distinguishing sounds, fatigue... tendency to become distracted by irrelevancies. Slowness in answering. Blurred vision" and his almost being hit by a steam locomotive. The only cure for this is rest, but because of Lady Shrapnell, that just wont happen in (Ned's present) 2057, so Mr Dunworthy (yes, the very same from Doomsday Book and Fire Watch) sends him to 1888. Where else could be more relaxing - punting on the Thames, playing croquet, and drinking tea. Except that Mr Dunworthy has set Ned a task, something that Ned has since forgotten due to the time-lag. And here's where the spoilers start! Click the picture below for a much shorter than usual review...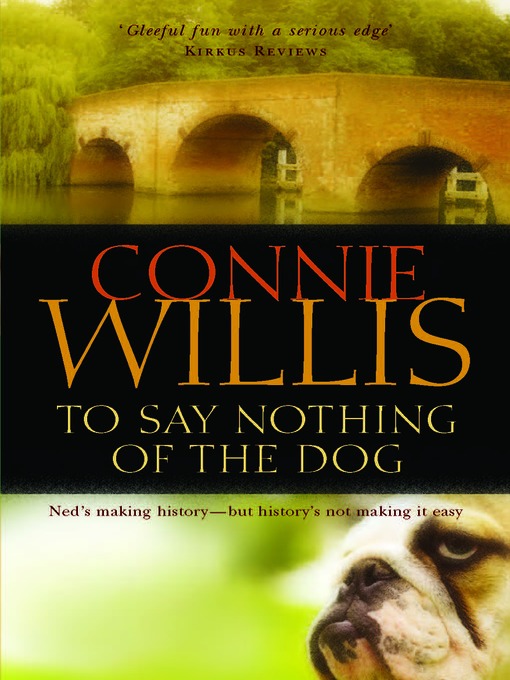 I think it takes a really skilled author to be both entertaining and thought-provoking, especially in both a lighthearted story and a serious story. If you found Doomsday Book too heavy to finish, do try To Say Nothing of the Dog. Also, give her short stories a try. I dug Fire Watch out of the library's stack (it was published in 1984) to read the Hugo and Nebula award-winning titular story, set in the same universe as Doomsday Book, To Say Nothing of the Dog, and Blackout/All Clear (which I'll definitely be reading soon*), and read on through the rest of the stories. I found A Letter from the Clearys (Nebula award winner), And Come from Miles Around, and Service for the Burial of the Dead the most enjoyable, though the imagery of Daisy in the Sun (Hugo award nominee) has stayed with me.
If I have inspired you to buy this book, please consider purchasing it from
Mighty Ape
. You can also get the book that inspired the title
here
, and you can get second-hand copies of Fire Watch
here
.
Using this link doesn't cost you anything and gives me credit to spend on more things to tell you about!
*Because this has been sitting in my draft-posts for so long, I'm now actually on to reading Blackout. I'm only three or four chapters in and I'm already hooked. I don't think it's a spoiler to say Colin (from Doomsday Book) makes an appearance!